Marimn Health Coeur Center
Vision & History
The Coeur d'Alene Tribe and Marimn Health have a history of progressive solutions that serve the greater community – the Medical Center, which opened in 1990, was the first tribal health facility in the nation to partner with HHS to open its services to both native and non-native patients. The Wellness Center, opened in 1998, serves both tribal and non-tribal community members and includes youth programs and youth sports that are also open to all kids in the community.
The primary purpose in building the Coeur Center is to give the youth and families on the Coeur d'Alene Indian Reservation a safe place to gather, learn, and have fun with the ultimate goal to dramatically increase the odds our youth have to succeed in school, stay away from drugs, alcohol, and crime, and lead healthy lives. In keeping with the giving spirit of the Coeur d'Alene Tribe, the Marimn Health Coeur Center will serve all youth in the community, native and non-native alike. We are investing in not only the future of the Tribe, but also the future of the entire region and state of Idaho.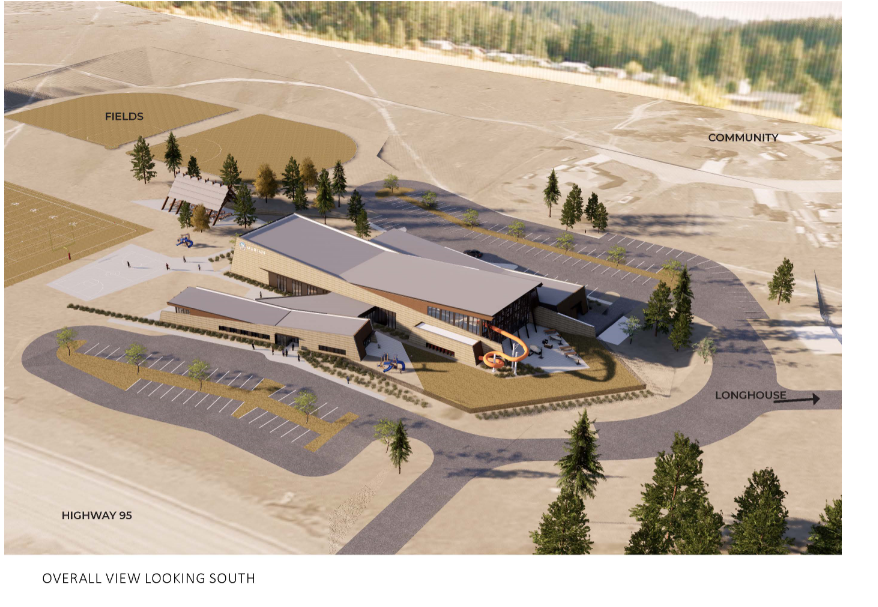 This is more than a recreation center; this is a prevention center that will serve as a catalyst for positive change for our entire rural reservation community. It will be a safe place — a sanctuary — where at-risk youth can play and learn, build healthy relationships, and find hope for brighter futures; where families can heal and be well; and where the community can connect with each other and its Native heritage.
Reservation youth are suffering at alarmingly disproportionate rates as compared to all other youth. Addiction is ripping families apart, threatening the well-being of young people across the reservation and broader community. The Coeur Center empowers reservation youth with the holistic care, support and resources needed to overcome life's challenges and to break the destructive cycle of addiction, abuse, crime, and poverty in our community.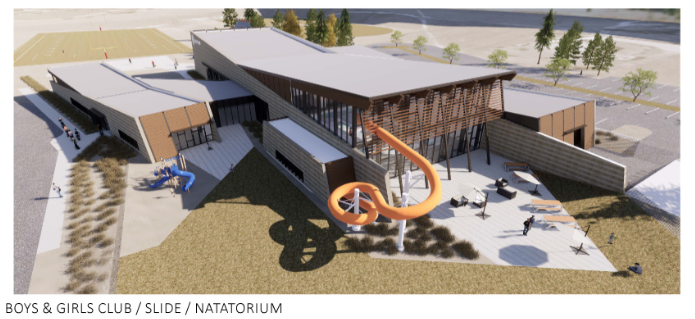 The Coeur Center is a place of holistic wellness and healing — where we improve the well-being of the whole person: mind, body, spirit and heart. It equips youth and families with tools needed to cope with life's challenges and achieve a healthy way of living.
Reduce health disparities: This is an opportunity to address social determinants of health — access to food, afterschool programs, positive mentors, transportation, income, employment, and other factors that affect health. By further integrating therapeutic services, we help to eliminate barriers and bring quality physical, mental, emotional and spiritual care to youth and families where they are.
 Improve mental health: In 2014, 35.64 percent of people ages 10-24 on the reservation screened positive for depression. The Coeur Center aims to turn these statistics around through easily accessible mental and behavioral health services, including individual and family counseling, child play therapy, and partnerships with school counselors.
Combat the effects of addiction: Abuse of alcohol, opioids and other substances continues to threaten the well-being of families and young people across the reservation and broader community. The Coeur Center offers parenting classes, prevention programs, on-site licensed Behavioral Health professionals, specialists and other support services to help youth and families overcome problems caused by addiction and get them back on their feet.
We know that the very best way to address crime and addiction is to prevent it from ever starting. Having a state-of-the-art, beautiful facility like this with robust, proven programs focused on prevention is an investment we know will bring a tremendous return for generations to come.
The Coeur Center is roughly 32,200 square feet, and located on tribal land in Worley, Idaho. Worley is the tribal community where the greatest number of youth live on the reservation. The land was donated by the Coeur d'Alene Tribe, and the facility was built primarily with funds provided by Marimn Health.
The site offers a family waterpark, including a waterslide and indoor splash pad with zero depth entry, children's water toys, a lazy river, two lap lanes, a plunge platform, and a water climbing wall; outdoor sports fields, including a basketball court, softball and baseball fields, and football field that can double as powwow grounds; outdoor playground for kids and pavilion and picnic area; fitness equipment and areas; ample dedicated space for youth programs, including Boys & Girls Club programs, a technology center, teen center, art room; and an indoor play area.
"If we build it, they will come" is an underlying theme to this project. One of the biggest barriers to making a true impact on the lives of reservation youth is overcoming the barriers to participation. This facility is a soft entry point to providing the critical assistance many of our kids need to build the resiliency and strong character required to lead the Coeur d'Alene Tribe into the future.

Every year, billions of dollars are being spent on the disastrous effects of the opioid epidemic. Most are dedicated to medication and treatment modalities applicable only after addiction has taken hold. This facility is on the cutting edge of healthcare and addresses many of the well-researched social determinants of health in a head-on, prophylactic approach. Instead of waiting to battle the disheartening odds that recovery from opioid addiction poses, we are creating a model that the rest of rural and urban America can blueprint to overcome this indiscriminate plague.
There's no better time than now to create this change and end the destructive cycle of addiction and crime. We can change the trajectory of our children's futures for the better.